FAQ
Q: How do I measure my unit for cost estimate?
A: Measuring your unit is very easy. You must measure each window separately in order to get an accurate estimate on cost. For each window: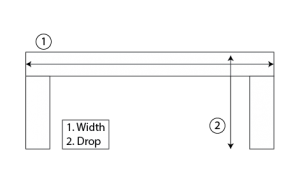 1. Width: Measure the INSIDE width of the valance as close to the top as possible.
2. Drop Length: Measure from the INSIDE top of the valance, or mounting position, to the bottom of the window frame.
To Place your order:
Send eMail to:  rd3523@aol.com or call 574-320-9095 with additional questions.
A Shade-Man representative will contact you to finalize your order, verify shipping, billing address and credit card information.
Please note that all Slow-Rise Roller Shades are custom-made and are non-returnable.
Q: How long does it take to have my RV updated with Slow-Rise™ Roller Shades?
A: Each roller shade is custom made for your RV. Normally 2 weeks for delivery.
Q: What is the warranty on Shade-Man roller shades?
A: All products have a full 1 year warranty.